VH-BTI Auster J/5R Alpine (c/n 3301)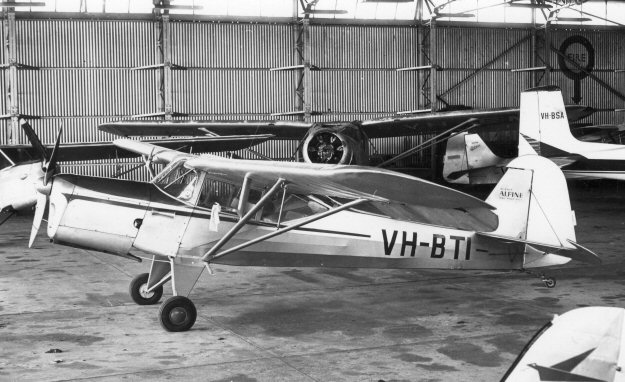 The Alpine was a hybrid machine based on the fuselage of the J/5L Aiglet Trainer fitted with the
wings from the J/1 Autocrat. The prototype was converted from a J/5L Aiglet Trainer. Only 10
were built. VH-BTI (formerly G-AOGN) is seen in a hangar at Moorabbin in December of
1964 in this shot by Neil Follett (image via Geoff Goodall). Note Fairchild Argus VH-EMP in
the rear. Greg Banfield saw -BTI at Berwick, Victoria in December 1973 (immediately below).
In mid 2009 c/n 3301 was under restoration in Redcliffe, Queensland. It will re-emerge as
VH-AOG, as seen in Ian McDonell's hangar shot at the foot of the page taken in August 2009.