VH-BSV DHC-1 Chipmunk T.10 VH-BSV (c/n C1/0062)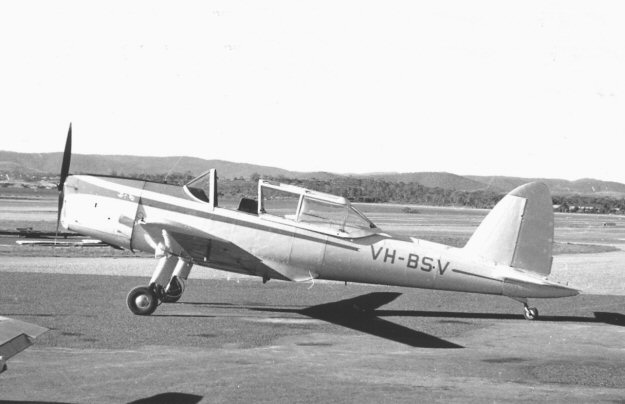 This was the former G-AOSR (and RAF WB621). It was ferried to Derby Aviation from 10MU
Hullavington around 1956 along with many other Chipmunks, including WB722 which was to have
become G-AOSP (In the event it was never converted). Chipmunk expert Rodney Brown explains
that, unfortunately the roughly painted ferry regos were transposed and WB621 wound up, briefly,
as G-AOSP, as seen in the photo, below, taken by Eric Wagner. (Eric also took a shot of the
'real' G-AOSP as G-AOSR which Rod has supplied me if anyone is interested). G-AOSR was
never issued a UK CofA, being sold instead to the Aero Club of Southern Tasmania in July 1960
as VH-BSV. The photo above (also via Rod Brown) came from the Peter R. Keating collection
and was taken at the club's base at Cambridge Airport, Hobart circa 1960. Decades later Phil
Vabre's shot (# 3 below) shows it in remarkably good shape at the Narrandera, NSW Airshow in
April of 2006. It has recently (2011) been re-registered VH-RME and, as such is seen in the shot
at the foot of the page taken by Ian Mcdonell at the August 2011 Caboolture air show. The rego is
in minuscule titling under the tailplane and is all but invisible in this 625 pixel image.