VH-BRI (2) Sikorsky S-61N (c/n 61242)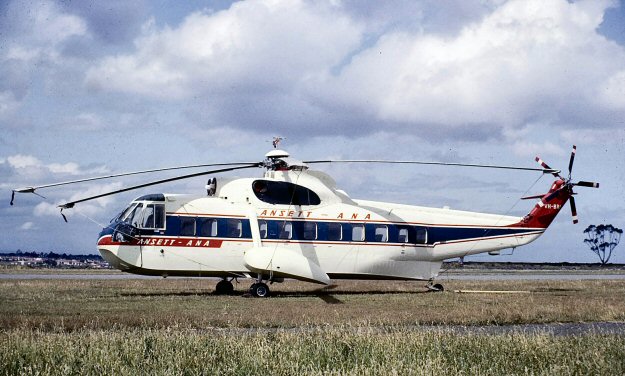 This machine was purchased by Ansett-ANA new at the end of 1964, and the color shot above
was taken by the late Pat Sheehan at Essendon before it was dispatched north to the Barrier Reef
islands. It was initially allocated the trade-plate registration VH-FCV, but this was not taken up,
the big chopper becoming VH-BRI instead. Named

'Golden Islander'

it was used on the
Proserpine-Hayman Island tourist run starting in 1965. Other than a charter to Bristow Helicopters
in 1977 it was used by Ansett until 1984 when it was sold off, ostensibly to Grecoair in the US.
This transaction did not go through and it was subsequently sold to Barrack Aviation Services Pty
Ltd and re-registered VH-BHO It was used, along with VH-BHJ (ex VH-BRH) in 1986/87 on
flights between Fremantle and Rottnest Island to cover the America's Cup regatta. In 1988 it was
sold to Carson Helicopters, Inc of Perkasie, PA and registered N116AZ. It was either re-shipped
out to Australia, or had stayed there all along, (I am not sure) but, in the event, was operated by
Helicopters Victoria out of Albury, NSW for fire-fighting during the 2003/2004 bushfire season.
George Canciani took the shot of it as N116AZ (below) at Essendon in March 2004. Anyway,
by July of 2004 it was back in the US fighting forest fires in Arizona. It is still current as N116AZ
and is owned by a company headquartered close to my abode here in eastern North Carolina.