VH-BRD Short S.25V Sandringham 4 (c/n SH.33C)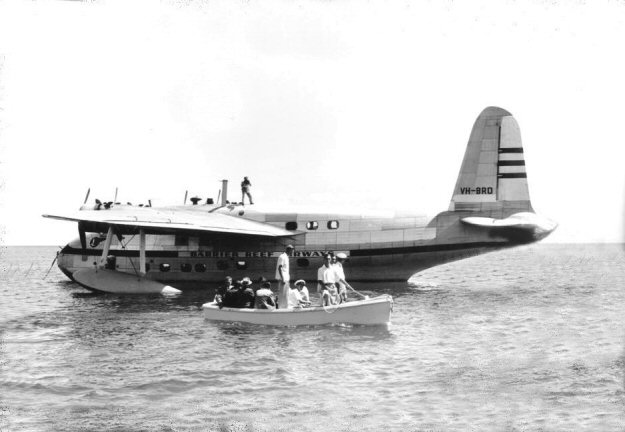 Formerly RAF Sunderland Mk V NJ179 this aircraft was converted to Sandringham standard
and leased to Tasman Empire Airways Ltd as ZK-AME in July 1946. Withdrawn from TEAL
service in 1949 it was acquired by Barrier Reef Airways in 1950 for £5,000 and became VH-BRD.
It is seen above at Hayman Island in 1951. Ansett Airways took over the service in 1952 although,
apart from 'Ansett Airways' titling, it basically retained its Barrier Reef livery. On 11 July 1952 it
was stuck by a coal barge on the Brisbane River, damaging the port wing-tip. Repaired, it was test-
flown in August 1952 but then sank at its moorings on the Brisbane River in October of that year,
after being hit by an unidentified boat. It was refloated and towed to Colmslie Slipway, Brisbane
.where inspection revealed it to be a complete write off. It was stricken from the register in April
1953. The old girl was then converted for use as an afternoon tea house, with plans that it later be
used as a floating restaurant. Unfortunately it was lost off the Gold Coast in February 1954 when
it was swamped by waves, whilst being towed. The wreckage was never found.