VH-BPR Percival P34A Proctor III (c/n H.325)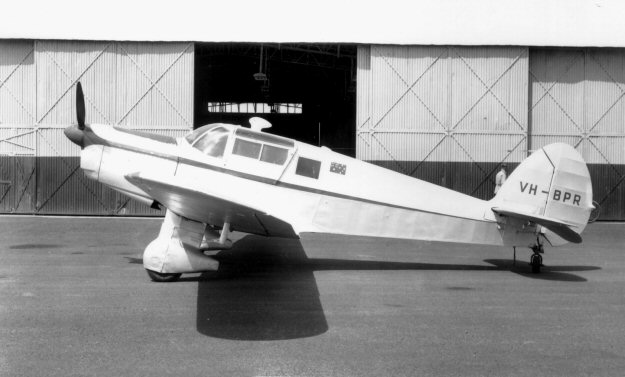 Imported in 1955, this F.Hills-built Proctor was ex-G-ANPR, and before that HM431 with
the RAF. I saw it above at Moorabbin in 1956. It was originally imported for Western Air
Navigation Pty Ltd of Charleville, Queensland, as seen in the photo immediately below from
the Geoff Goodall collection, taken at Eagle farm, Brisbane, just after it went onto the Australian
register. After Schutt sold it in the late 1950s, it was seen at Moorabbin (Photo # 3) wearing
an impressive paint job with a cougar on the nose (also from Geoff's collection). In 1964 it
took part in the Ansett Air Race from Brisbane to Adelaide in 1964, as seen in Geoff's photo
(# 4) taken at Bankstown during the night stopover on 29 March of that year. Pilot for the race
was L.A. Day of Geelong, Victoria. VH-BPR was destroyed in a crash in 1965.