VH-BPL Douglas DC-3CS1C3G (c/n 12873)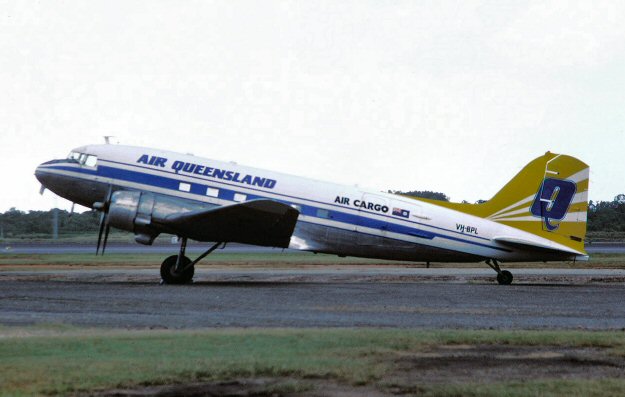 This was the former Qantas VH-EAP (although oddly there do not seem to be any photos of it in
Qantas livery) registered to the airline in June 1948. It was built for the USAAF as a C-47A-20-DK
with serial 42-93009 although was immediately supplied under Lend-Lease to the RAAF where it
became A65-44. Qantas re-registered it VH-EBY in 1957 to make the rego available for a Lock-
heed 1049G Super Connie. In 1960 the Australian National Airlines Commission made it available
to TAA for their New Guinea freight operation and it was re-registered VH-SBG, later being re-
liveried in "Sunbird" decor. In 1977 to 1974 it served with Air Nuigini as first P2-SBG and later
as P2-ANP. Retired in 1977 it was placed in storage at Port Moresby. In 1980 it was ostensibly
slated to be used by the Red Cross in Thailand and was assigned the US registration N5590A but
it is doubtful if that commission ever took place. In the event, it returned to Australia and sold to
Air Queensland in 1982 (who by then had taken over Bush Pilots Airways) and given the "Bushie"
type rego VH-BPL. It was operated as a pure freighter. The image above is from the Maurice
Austin collection. Byu 1988 it was operating for Air Rambler (Australia) Pty Ltd Since then it
has had several owners and is, I believe (mid 2008) going to be restored at the Qantas Founders
Outback Museum at Longreach, Queensland.