VH-BPA (5) Cessna 310K (c/n 310K0057)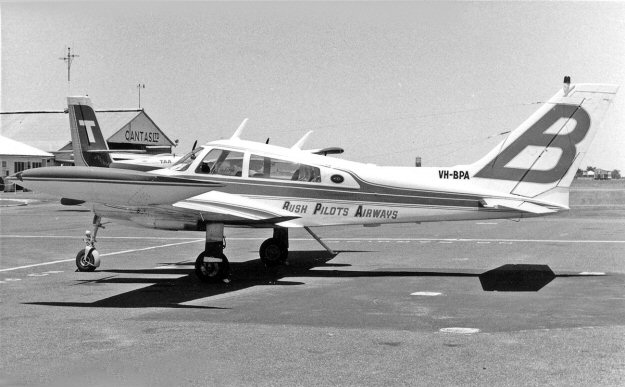 There have been at least six aircraft registered VH-BPA, not including the first one, which was a
DC-4 for British Commonwealth Pacific Airlines. All the others, of course, carried this 'primo'
registration for Bush Pilots Airways. Incidentally, the first BPA machine, an Auster J/5G is now
currently back on the register in its original identity, presumably as a restored exhibit for Bush Pilots.
. Anyway, like most twins, this 310K was ferried across the Pacific, arriving in Brisbane as N6957L
on 23 December 1966. It received its Australian CofA (and rego) in February 1967. Records
indicate that it lost an engine during the over water trip and had to declare an emergency. Obviously
arrived unscathed. BPA sold it in New Guinea in September 1979 wherein it became P2-PVT. .
Peter Kelly's shot above was taken at Longreach, Qld in December 1970 whilst the aircraft was
on scheduled service with BPA. . David Carter's photo below was at Port Moresby in 1983
after the aircraft had been reregistered in PNG.