VH-BMO as VR-SDT Avro 652A Anson 1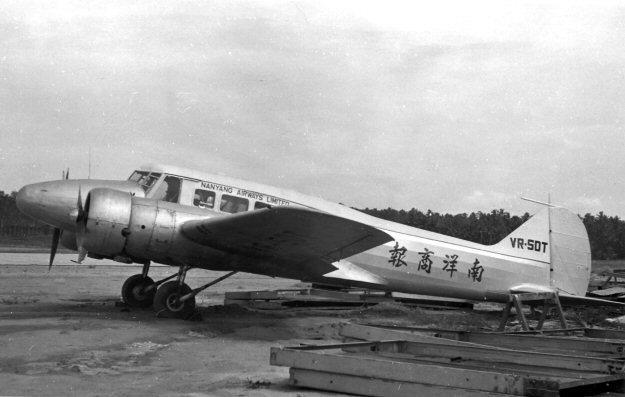 The above photograph was taken by the late Peter R. Keating at the old Singapore Airport at
Kallang in 1955, and, although not showing the aircraft as VH-BMO I have decided to file it here,
rather than under my Asian airline material. This Anson was one of the many ex RAAF Ansons
sold on to the post-war civil market by Eric McIllree . W2109 was collected from RAAF Station
Narrandera and ferried to Sydney for civil overhaul. Registration application was made in Nov-
ember 1948 in the name of McIllree's car rental company U-Drive Pty Ltd at Sydney Airport but
it did not receive a CofA until August of 1950 when it was registered VH-BMO to Charter Aviation
Service (Australasia) Ltd, based at Lae, New Guinea. Two years later it was repurchased by
McIllree in the name of one of his other companies Airport Driveyourself Pty Ltd, Sydney and sold
to Singapore. On 16 May 1953 the Anson departed Darwin on delivery to Nanyang Airways Ltd,
Singapore and was registered VR-SDT ten days later. Nanyang's parent company was Nanyang
Press Ltd and the main use of its fleet of Ansons was flying its newspapers to Malayan destinations.
VR-SDT had been purchased in a rush to replace Anson VR-SDL which crashed at Kuala Lumpur
on 11 April 1953.