VH-BLG Avro 652A Anson 1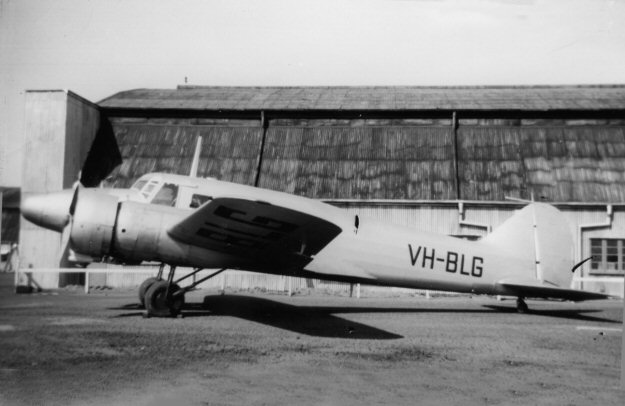 . Another Loneragan brothers/Aircraft Disposals, Mudgee, NSW civilian conversion of an ex RAAF
Anson....in this case W2486. CofA issued October 1949. Conversion spearheaded by their chief
engineer Harold Thomas who later went on to establish the Camden Museum of Aviation. The above
photograph, from the Geoff Goodall collection was taken at Brisbane circa 1952. VH-BLG was
retained by the Loneragan family for their pastoral, commercial and hotel business interests (Loneragans
owned the largest department store in Mudgee). It boasted an "executive interior" (installed by Airflite
at Mascot). Seen below is a close up of - BLG taken at Bankstown in 1953 (Geoff's collection again).
Eric Loneragan is seen on the left, Bryan on the right. The aircraft is carrying the name

"White Heather"


since the Loneragans were the Australian agents for White Heather whiskey at the time: Note large
manual ADF loop aerial on top of the nose.
Finally, at the foot of the page is poor old -BFG as Geoff himself saw her in the railway yards at
Mudgee, NSW in January of 1973. Along side were the remains of the Loneragan's Percival Vega
Gull VH-BQA. VH-BLG was officially written off during 1959 when it made a wheels-up forced
landing near Mudgee while carrying live sheep! (No reports on what happened to the sheep). The
Anson and the retired Vega Gull were dumped in town and rotted there until both were collected by
Sydney enthusiast John White in 1975. The Loneragan family also donated 2 brand new Cheetah IX
engines, undercarriage and tires, radios and ancilliary equipment, a complete rudder, 16 bomb bay
doors and many cockpit instruments. White commenced a static restoration of the Anson's forward
fuselage in a storage shed in Windsor, Sydney - his group was the embryo Historic Aircraft Restoration
Society which grew into today's HARS with its airworthy Constellation, Catalina, and Neptunes.