VH-BLF (1) Avro 652A Anson 1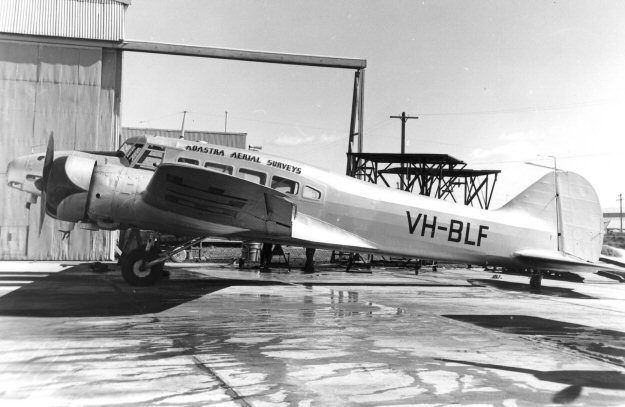 The above photograph was by the later Peter R. Keating (via Geoff Goodall) at Mascot in 1958.
Note that by this time it had traded in its "pointed nose" (as seen in my shot below at Bankstown,
circa 1948) for a conventional Anson nose. This aircraft was ex RAAF EF989 and was another
purchased by James Loneragan trading as Aircraft Disposals of Mudgee NSW in 1946. It was
destined to become VH-AJL but those marks were on the "Do Not Allocate" list at the time and
hence it was re-alloted the registration VH-BLF. (-AJL was not used until 1977 when it was assign-
ed to a Cessna 182). Anyway, Aircraft Disposals themselves used -BLF it as a company hack for
a year in 1948 and then retired it and stored it in a hangar at Camden until 1956. At that point in
time it was sold to Morrie Lawrence at Camden who was Australian agent for the US company
World Wide Aerial Surveys. Operating under the name Sepal Pty Ltd, Lawrence provided ex
RAAF Mosquitos, a Hudson and VH-BLF to WWAS for surveys in outback Australia and Borneo
until 1958 when WWAS pulled out of Australia and Sepal Pty Ltd and VH-BLF were sold to Adastra
Aerial Surveys. Morrie Lawrence continued at Camden as a maintenance organization, Lawrence
Engineering Services. He was involved in buying up Tiger Moth spares inventories from agricultural
companies who were modernizing their fleets, and set up his own production line of a dozen "new
build" Tiger Moths at Camden.
The photo immediately below shows -BLF while in Aircraft Disposals ownership (Camden, circa
1948)
Following that is a poor, but rare shot from the Geoff Goodall collection at Mascot in 1957 of this
Anson wearing World Wide Aerial Surveys titles.