VH-BKS de Havilland D.H.82A Tiger Moth (c/n 83118)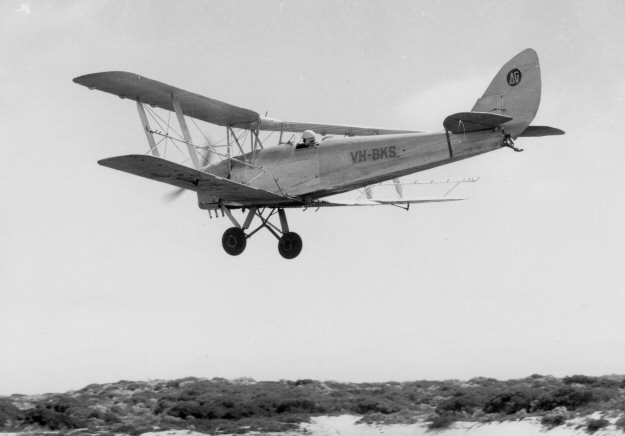 This historic image, from the files of the "West Australia" newspaper, and presented here courtesy
of the Geoff Goodall collection shows this Tiger spraying for mosquitos at the Swanbourne Army
Camp, near Perth on 24 January 1959 . Interestingly, Geoff advises that he purchased this air-
craft himself as a basket case after finding it in a backyard at Scarborough, WA in 1971 (see shot
below). He then donated it to the (then embryo) Airforce Association Aviation Museum at Bull
Creek who, through their connections with the RAAF had it airlifted in a C-130 to Tiger Moth
expert John Boden in Adelaide who did considerable work on the fuselage. After another airlift
back to Perth it was finished up as an ag machine, a role, in fact, that it had performed for its work-
ing life as a civil machine. After many years at the RAAFA Museum it has now been acquired by
the Queensland Air Museum at Caloundra who have made assurances that it will be kept as an
agricultural machine and not dolled up in "warbird" paint. Hallelujah! It did, of course, do its 'time"
from 1940 to 1945 although was never allocated a RAAF A17- number, serving instead with its
RAF serial of R5259. It was civilianized in 1947. Ian McDonell provides the i,age at the foot
of the page showing it at the QAM with spray gear.