VH-BKR de Havilland D.H.89A Dragon Rapide (c/n 6929)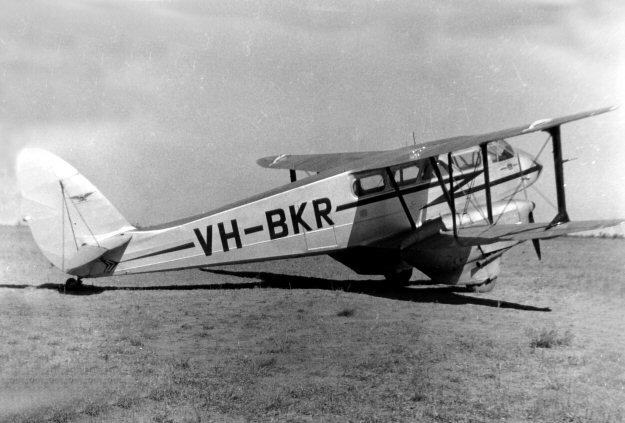 Dragon Rapides were not nearly so common in Australia as D.H.84 Dragons were. VH-BKR was
one of a number of Rapides flown by Connellan Airways in the 1940s and '50s. It was actually
Connellan's first and was the former RAF Dominie RL947. It is seen above at Boroloola Station
in the Northern Territory in this July 1948 photo by Phil McCulloch (via the Geoff Goodall collection).
The color shot (below) is from the Ben Danneker collection, and was taken at Alice Springs Airport
in the mid-1950s, whilst the photo at the foot of the page was taken by Colin Hayes, a DCA Radio
Tech at Wyndham in late 1953. As my good mate, Geoff observes: Can you just imagine being a
passenger on the Connellan Airways service Wyndham-Alice Springs, with multiple stops at properties
along the way, limited to VFR and stinking hot, crashing along through that vicious northwest turbulence
all bloody day in a Rapide?. BKR was re-registered in the Connellan series as VH-CLH in 1958,
and withdrawn from use in 1962.