VH-BKG (1) de Havilland D.H.82A Tiger Moth (c/n DHA908/T227)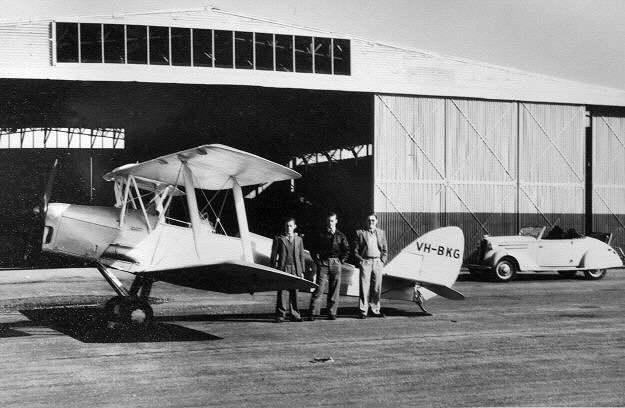 This Tiger was owned by Charlie Pratt when this shot, from the Kevin OReilly collection, was
taken. That's Charlies's 1936 Chevy Roadster on the right. The photo was at Moorabbin and
was probably around 1950 since the aircraft has the 'new' tailplane rego identity, but was sold
in February 1951 to H.E. Korin of Mount Gambier, SA. Originally A17-485 it left RAAF
Bairnsdale on disposal on 24 October 1947 to be civlianized for the Newcastle Aero Club.
Geoff Goodall advises that the princely sum of £90 was paid for it. (Don't even ask what it
would fetch today).. Mr. Korin must've been some sort of quick flip merchant for it was sold
in September 1951 to Aerial Agriculture whereupon it became VH-PCO On-sold by the crop
dusting outfit in November 1953, it was re-registered as the second VH-AIP, an identity it retains
to this day, although as my entry for this attests, it is no longer an ag machine and has acquired a
canopy over the years.