VH-BJZ Miles M65 Gemini 1A (c/n 6453)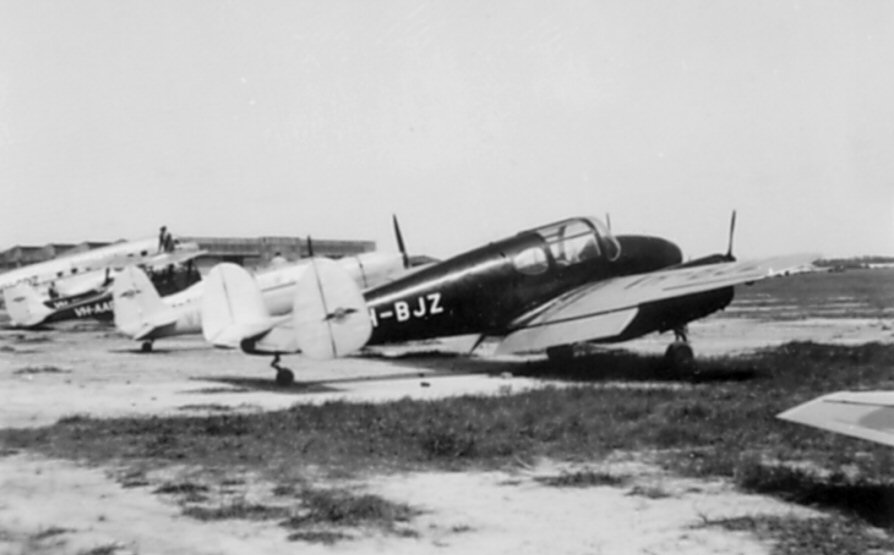 This is the Gemini which appears in the shot of VH-BFT. Taken on the same day with a box camera.
This line up of aircraft were all part of the fleet of the Royal Aero Club of NSW in 1948. It is seen in
the photo immediately below, gleaned by Wally Civitico from the archives of Exxon Mobil. at an un-
known location being refueled from the Vacuum Oil truck. VH-BJZ was the former G-AILK and was
withdrawn from use in 1963 following the DCA directive regarding wood bonded (glued) aircraft. The
two images following Wally's are both from the Geoff Goodall collection. The upper shot shows -BJZ
in its final days, parked out in the weather at Longreach, Qld in January 1968, slowly falling to pieces.
Happily some parts of it were salvaged and ended up with the Gemini collection of Lyn Forster at York,
WA. The photograph a the foot of the page illustrates G-AILK in Launceston, Tasmania in May 1947
while on a demonstration tour by the Australian Miles agents. It had been flown out from England as the
first postwar solo flight to Australia by Group Captain A. F. "Bush" Bandidt, an Australian serving in the
RAF. He departed the Miles factory at Woodley, Reading on 1 December 1946 and made Australian
landfall on 7 January 1947 at the abandoned Truscott military strip on the Kimberley coastline before
proceeding to Darwin to clear customs. This image looks like someone has done some weird airbrushing
of the top of the cabin roof at some point. Possibly to differentiate the cabin outline against the dark hills
backdrop of Western Junction Airport.