VH-BIZ (3) Dassault Falcon 20CC (c/n 73/419)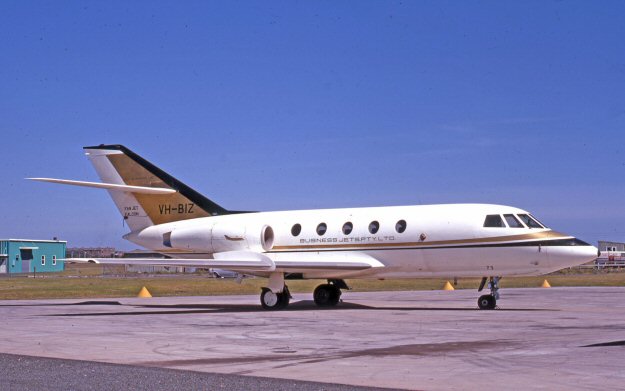 This Fan Jet Falcon was unique in that it was the only Model 20CC built. It had low pressure
tires and dual-wheel undercarriage for unprepared strips. First flown at Bordeaux as F-WJML
it was sold in Australia in July of 1967. The fuselage titling reads 'Business Jets Pty Ltd'. Greg
Banfield saw it at Mascot on 6 December 1969, looking immaculate in a sharp white with black
and gold trim (and gold fin) finish. It returned to France in September 1973 as F-WMKG before
being to to sold to the Government of Zaire as 9Q-CKZ. It was then acquired by Finans Scandic
in Luxembourg as LX-AAA and then in December 1984 it went to Norway as LN-AAA. In Dec
1988 it was sold in the US but was reported to have been burned out in May 1989...