VH-BIB (4) Beech 65-A90 King Air (c/n LJ-227)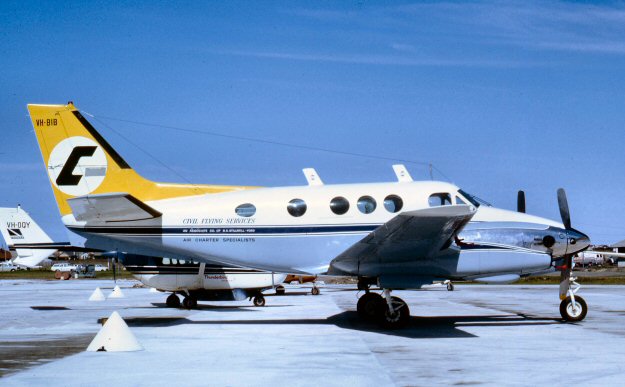 A popular registration is VH-BIB. After the first allocation, which was a Lockheed Hudson (no
photo has come to light), the next three were Beech products. The current (the 6th or 7th) is a
Piper Arrow III. Anyway this, the fourth, was seen (above) at Mascot on a hot day in February
1968 by Greg Banfield. Greg's second shot, immediately below was at Bankstown in October of
1974 while the King Air was owned by Delta Air Services Pty Ltd. In an almost identical pose,
Geoff Goodall's photo at the foot of the page was taken slightly before Greg's photo above in April
1967 in front of the control tower at Adelaide's Parafield Airport . At that time it was actually
registered to B.S.Stillwell Pty Ltd of Melbourne, which was founded by racing car driver Bib Still-
well who had taken over Civil Flying Services at Moorabbin from Brookes Aviation in 1962. At
the time of Geoff's photo it was Stillwell's personal aircraft although clearly was released into the
general CFS fleet by 1968. Formerly N5401U, it returned to the US in 1975 as N239K, although
ended its days in Chile as CC-PIR.