VH-BGL de Havilland D.H.82A Tiger Moth (c/n DHA645/T285)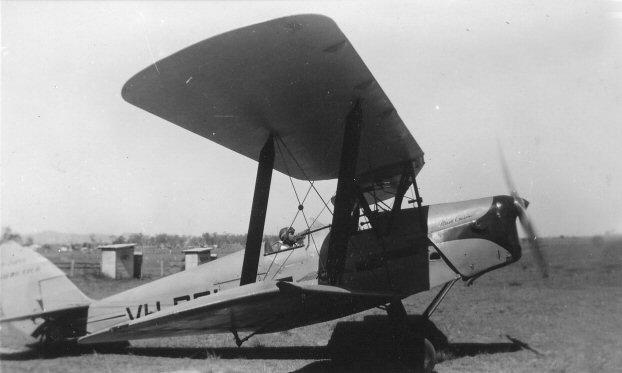 This shot comes from Alan J. Sheppard, whose father flew this Tiger extensively when he was
with the Casino Aero Club in 1948. Color scheme was yellow with a red cheat line, and the
Tiger was named

'Miss Casino'

. That's Milty Sheppard in the cockpit. It had been civilianized
the previous December (1947), ex A17-445. The aircraft then had several periods of inactivity
when its CofA lapsed from time to time from the end of 1948 until 1961. It appears in an historic
shot of the 1950 Casino Air Pageant seen in the entry for the Chipmunk VH-BFT. VH-BGL was
finally restored in the late 1960s, re-emerging as VH-GWG. This grand old lady has been active
ever since and is currently (as of 2011) registered to an owner in Victoria.