VH-BFS de Havilland D.H.89A Dragon Rapide 4 (c/n 6886)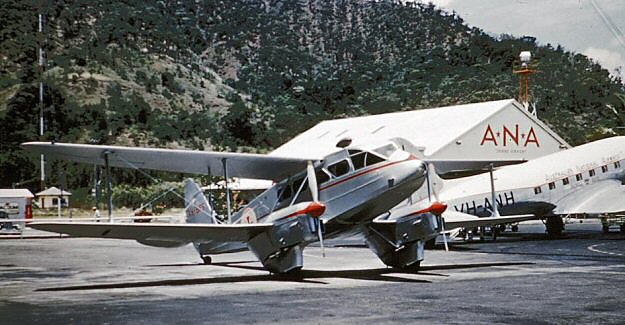 Here's an evocative shot from the Maurice Austin collection showing this air ambulance Rapide
in company with ANA's VH-ANH at Cairns, circa early 1950s. VH-BFS was the former G-AGSI
(ex RAF NR810) and was sold New Hebrides Airways at Port Vila in 1960 as VQ-FAZ. Geoff
Goodall's B&W shot (below) shows it at Oak Park Station, Queensland in 1956. This Rapide was
one of the Queensland Ambulance Transport Brigade (QATB) fleet based at Cairns, and had been
ferried out from the UK by Bush Pilot Airways captain Frank Roche. In December that same year
the Rapide was among a flypast of Bush Pilots aircraft at Roche's funeral at Cairns after he was killed
in a BPA Auster while spraying tobacco crops. As indicated above it became the first aircraft for the
newly formed New Hebrides Airways, founded by local trader and plantation owner, Australian Bob
Paul. Its first New Hebrides service took place on 2 April 1960 under the registration VQ-FAZ
since the New Hebrides did not, at that time, have an aviation authority or registration series. (The
Solomon Islands would eventually be assigned the VP-P series). The Rapide did not last long, failing
a CofA renewal at Suva, Fiji in August 1961 when deterioration in its wooden construction made it
uneconomical to rebuild. It was broken up for parts.