VH-BFR Stinson L-5B Sentinel (c/n 2744)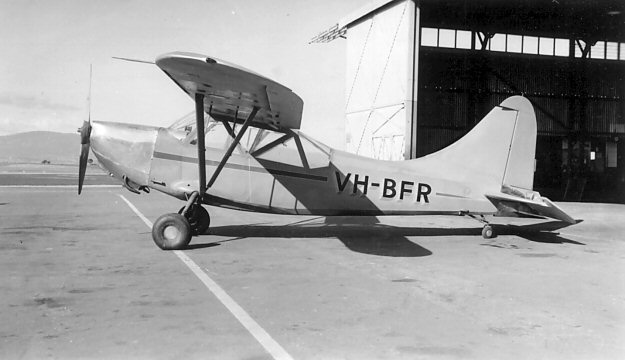 This Stinson was resident at Western Junction, Launceston, Tasmania when I lived there in the
early 1950s. This shot was taken in 1952. It was painted a sort of light green with red trim
and shadow-type rego, (which I thought was very cool at the time!). The image immediately
below is from the Geoff Goodall collection and shows -BFR, still in Tasmania in the later 1950s,
and before it became a cropduster. The third photograph, also by Geoff shows the Stinson
after a ten year rebuild in Hobart a couple of years previously, when it had flown up to Berwick,
Victoria for an air show in March of 1975. VH-BFR is still current and is owned by Malcolm
Long, proprietor of Air Gold Coast of Coolangatta. Needless to say it is now portrayed as
"warbird" 42-99465, its original USAAF serial. The markings have been researched to authen-
tically portray the aircraft as she was in 1945 with the 125th Liaison Squadron in the Philippines.
The photograph at the bottom of this entry comes courtesy of the Jim Gray collection, although
was probably taken by Malcolm Long.