VH-BFC (3) de Havilland Canada DHC4A Caribou (c/n 23)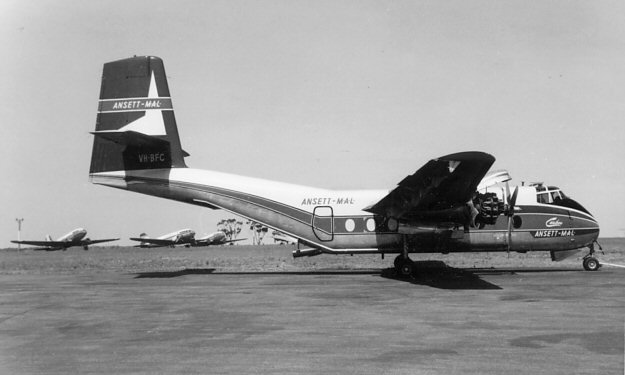 This was actually the third VH-BFC and I will index it as such, although I doubt I'll ever latch onto
a photo of the second one, which was a Piper PA-25 Pawnee registered in Victoria in 1961 and
which came to grief at Stawell in 1963. Anyway, the nice shot above of

this

VH-BFC was taken
by Richard Maclean in 1965 as the aircraft staged through Essendon on its way to New Guinea.
The Caribou wasn't new then by any means having been leased by its manufacturer to the Royal
Swedish Air Force for a couple of years as TP-9. It then returned to Canada as CF-SOD before
being purchased by Ansett-MAL (Mandated Airlines) for work in PNG. Greg Banfield's photo
of it as CF-SOD (below) was taken at Bankstown in August 1965. After four years of service
with Ansett it had an even more varied history. The Australian subsidiary of the de Havilland com-
pany in Bankstown acquired it and, after refurbishing sold it in the US as N11HB. In the 1970s it
went to the Anglo-Ecuador Oilfields Company as HC-AVY, only to wind up a year or so later in
the Omani Air Force as 804. It returned to Canada in 1977, being registered to Propair, Inc of
Rouyn, Quebec as C-GVGX and was withdrawn from use in 1986. The current, and fourth
VH-BFC is a Cessna 152 with the Royal Aero Club of Western Australia.