VH-BES (1) Avro 652A Anson 1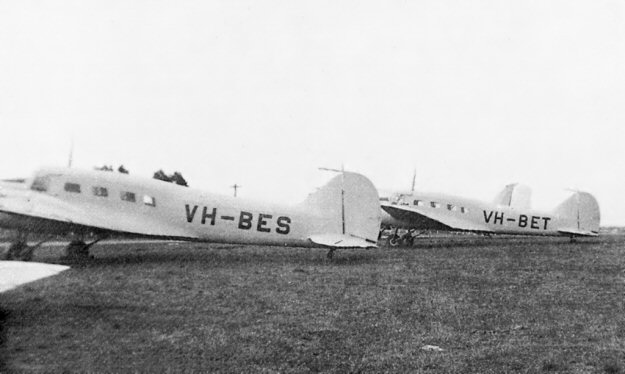 The above is a copy of an original print taken by Trevor Broughton showing Ansons VH-BES and
-BET at Essendon in 1948 when owned by Warren Murphy and Charles Rudd of Melbourne.
They were two of six or seven Ansons acquired by the couple along with some Tiger Moths and
an Auster Mk III. Both Ansons were destroyed in a hangar fire at Nhill, Victoria on 5 June 1946.
The same fire destroyed a visiting Adastra Aerial Surveys Anson VH-BGO.
The images below are from the album of Jack Giles, who was a longtime LAME at Essendon who
ran a business there as Air Operations Pty Ltd in 1946/50 doing civil conversions of Ansons, Avro
Cadets and Tiger Moths. He even owned the Stinson Reliant VH-UXL when it was released by
RAAF after wartime impressment. The photos show MG530. which became VH-BES after its ferry
flight from Port Pirie to Essendon in June 1947. I have enlarged the serial number from the upper
photo (bottom of the page) so that purists can see that it was, indeed, MG530 in the RAAF, albeit
with a line through it.