VH-BEN (1) Stinson L-5B Sentinel (c/n 76-3312)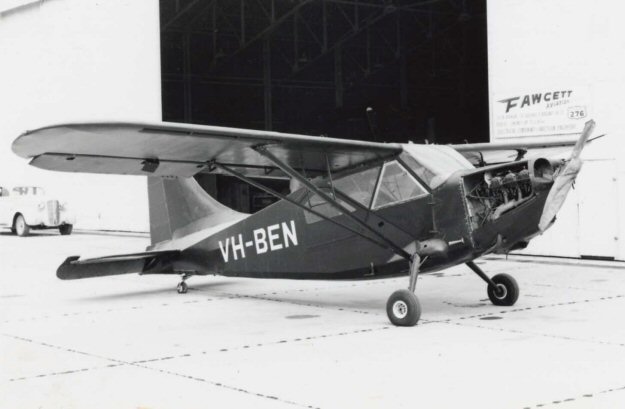 Rare shot from the Daryl Mackenzie collection of a Stinson L-5 outside the Fawcett hangar
at Bankstown in the mid 1950s. This aircraft came in from Hong Kong where it was formerly
VR-HEO, registered as a floatplane and owned by Vincent Wong who also had another L-5,
VR-HEQ. -HEO had been 44-17035 with the USAAF. After several other owners in Hong
Kong it was acquired by Air Asia director Daniel Beard who had it shipped to Australia.
Following several owners in Queensland it was stolen one day in 1971 from Cairns Airport by
a disgruntled aircraft engineer who managed to ground loop it upon landing at Coen, Qld.
Deemed uneconomical to repair it was acquired by Sid Beck of Townsville, Qld who intends
to add it to his private museum collection of military aircraft at Mareeba, Queensland. It is
currently stored, still in civil markings and is not yet ready for public viewing. The head-on
shot below in from the Elwood Summerville collection, possibly taken at Archerfield, circa 1954..