VH-BEM (1) Avro 652A Anson 1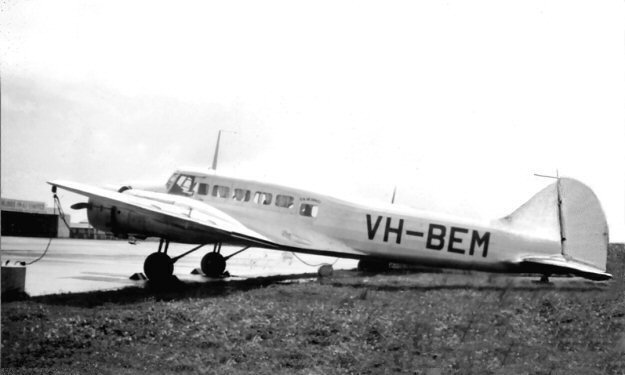 VH-BEM at Perth-Guildford, circa 1948. Photograph from the Geoff Goodall collection.
This Anson had been purchased ex disposals at RAAF Station Geraldton, WA in January
1947 by Bob Couper of Mount Barker, WA. The civil conversion was done by Airlines
(WA) Ltd. at their Maylands workshop and was completed on 4 August 1947. It was fitted
with passenger seats for charter work. Couper formed a partnership with John Dyer of Perth
who had flown Percival Proctor G-AHTN out from England to Perth the previous year. Jointly
they operated the Anson as BEM Air Services based at Darwin. It flew extensively in the NT
and the Kimberley region of West Australia carrying foods and supplies to remote cattle stations
until it was retired at Darwin in January 1950 and left to rot in the open. Meanwhile John Dyer
left for Calcutta, leaving DCA chasing air nav charges owed. The Aussie expression in those
days for such an action would be that he had "shot through"........"like a Bondi tram" to give it its
full expression. Recent trips back home have elicited that such colloquialisms appear to be dying
out....especially in this case since the tram tracks to Bondi were ripped up over 45 years ago.