VH-BEG Percival P.34A Proctor III (c/n H.257)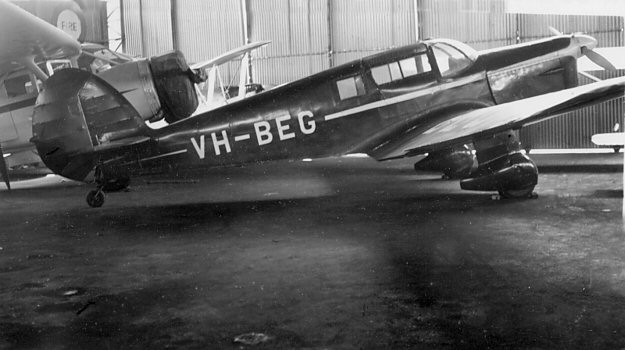 Both my shots of this Proctor (above and immediately belwo) were taken at Moorabbin. The
hangar shot was in 1955, whilst the outdoor image below was taken a couple of years later after
a change of ownership and a new paint scheme. Brian Nicholson (of Sydney) identifies the
pensive gentleman pondering some thought beside the tail of the aircraft as the indefatigable Arthur
Schutt. (Arthur passed away in 1999). Schutt Aircraft handled many Proctor sales over the years.
This one was the former G-AKZS and before that HM347 with the RAF. It was imported in 1954,
and, since it was the 'first' VH-BEG, clearly that had been a prohibited mark back in 1947 when it
should have been issued.. VH-BEG was withdrawn from use in 1964 at Tamworth, NSW when an
overhaul found that areas of the wooden structure had deteriorated and the entire tail section needed
replacing. The then owner took it by road to a farm at Quirindi, NSW where it was put into storage.
The remains were later collected by Leigh Giles of Lara, near Geelong to join his Proctor project
VH-SCC and parts collection based on VH-AHR, -BXU and -KZG. By 2008, however, VH-BEG
was in Mandeville, New Zealand under rebuild to fly again. The photo at the foot of the page from
the Geoff Goodall collection shows it at Eagle Farm in 1954 with Redex Trial 1954 titles on the
cowling. It was flown in the around-Australia air trial by Jim Montgomery and John Semler, who
won their section of the competition.