VH-BED (2) Auster IIIF (c/n 320)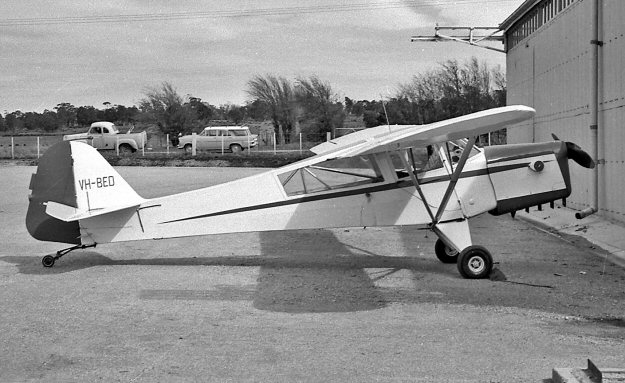 The nice photograph above, from The Collection p7017-0114-051, was taken at Launceston
in September 1962. The Auster was privately owned by L.A; Hayward. Geoff Goodall's shot
below was taken at about the same time whilst he was on a high school trip from Adelaide,
although on that day the Auster reposed in the Tasmanian Aero Club's hangar. (Note the
club's Safir VH-AHA in the background). VH-BED was first registered in 1960 as VH-RCT.
It was A11-38 when in the RAAF. After several periods of de-registration it wound up in
Drage's Air World Museum in Wangaratta in 1980. In the new millennium it was completely
restored again and is now flying as the "warbird" A11-38. Phil Vabre's contemporary shot of
it (bottom of page) was taken at the AAAA Fly-In at Swan Hill, Victoria in 2005.