VH-BEC (1) CAC CA6 Wackett Trainer (c/n 373)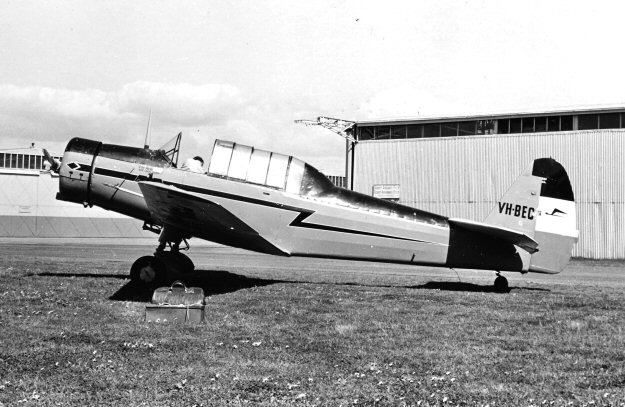 Formerly A3-139, this Wackett was civilianized in 1953. Above is a nice shot of it taken by
Neil Follett at Moorabbin in late 1961 shortly before it went missing in the desert on a cross
country flight from Melbourne to Perth. It was lost on the segment between Cedena, SA and
Cook on 14 January 1962. The compass had come loose from its bearing resulting in an
incorrect heading being flown. At the foot of this entry is a photo from the Geoff Goodall
collection taken by the crew of the Adastra Aerial Surveys Hudson that spotted it on 28 March
1965 in the vasts of the South Australia desert, the first sighting since it went missing on that day
in January 1962 A more complete synopsis of this saga can be found on Aviation Safety
Network's site at http://aviation-safety.net/wikibase/wiki.php?id=58826
After being retrieved from the desert the in 1977 Wackett was restored and put on display at
the Central Australian Aviation Museum in Alice Springs, NT. Immediately below is a not bad
shot by Barry Maclean considering how difficult it is to take decent photographs in museums.