VH-BDX (1) Avro 652A Anson 1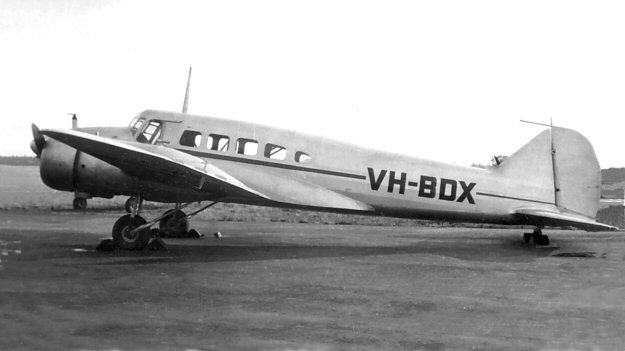 VH-BDX was ex RAAF DJ118. It was owned by Mr. G.A. Mickaelov of Sydney who was a
recently arrived immigrant from Yugoslavia. "New Australians", they were called then. The above
photograph, from my own collection, shows the aircraft nicely liveried in red and silver at Bankstown
in 1949 shortly before Mickaelov flew it to the U.K. in December of that year. The image below is
by John M. Smith (courtesy of the Geoff Goodall collection) and shows -BDX at Croydon in 1950
after the epic flight. (All flights from Australia to the U.K. in an Anson

had

to be epic). Actually,
he had made wheels-up landing on Elphick's Farm, Horsmonden, near Cranbrook, Kent after an
engine failure over the English Channel on 6 February 1950. The photo below shows the Anson
after the minor damage had been repaired. However, bad luck continued to haunt him, and another
forced landing was made on 18 November 1950 at Baincthum, 6 km from Boulogne, France. (Seems
like La Manche was Mickaelov's nemesis). Whatever, VH-BDX was finally written off in a takeoff
accident from Le Touquet Airport, Paris on 11 December 1950. Michaelov returned to Australia
sans his Anson.