VH-BDT Handley Page HP61 Halifax B.Mk.III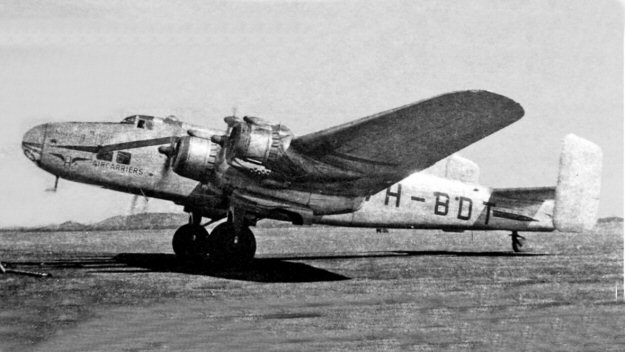 Rare shots of (I believe) the only Halifax ever registered in Australia. Above, from the Ben

Dannecker collection, it is seen at Cloncurry, Queensland in June 1947 en route to Singapore
on its one and only charter flight, after being registered to Aircarriers Pty Ltd of Sydney who
hoped to use it for tramp freighting. It was carrying a load of 89 Sydney dogs to Singapore
as guard dogs - for which good prices were being paid by Singapore businesses during a post-
war crime wave. The local dog population had been eaten during the Japanese occupation.

After several aborted takeoffs at Kallang aerodrome for the return flight to Australia on 29 June,
carrying a load of mixed goods and bicycles for Australia, the Halifax blew a tire. It finally depart-
ed Singapore for Sydney on 2 July 1947. On arrival at Mascot it never flew again and went derelict.

<> This Halifax was previously Geoffrey Wickner's G-AGXA

"Waltzing Matilda"

which he flew
home to Australia from England at the end of the war. The pilot was Edmund 'Ted' Hourigan >

who then joined London Aero Motor Services (LAMS) and flew LAMS Halifax freighters
between UK and South Africa as their only Australian pilot. When LAMS folded he was
stranded in England and was engaged to fly one of two newly purchased DH.89 Rapides
VH-BKM and BKR to Connellan Airways. On the final leg to Alice Springs on 6 May
1948 in -BKM, he crashed on takeoff Daly Waters NT due engine failure and with a broken
leg was pulled from the burning wreck by the engineer on board. They were collected by a
MMA Anson and flown to hospital in Darwin that evening. The shot of -BDT below is from
the Geoff Goodall collection and shows the Halifax at its final resting place at Mascot.