VH-BCZ de Havilland D.H.82A Tiger Moth (c/n DHA.336)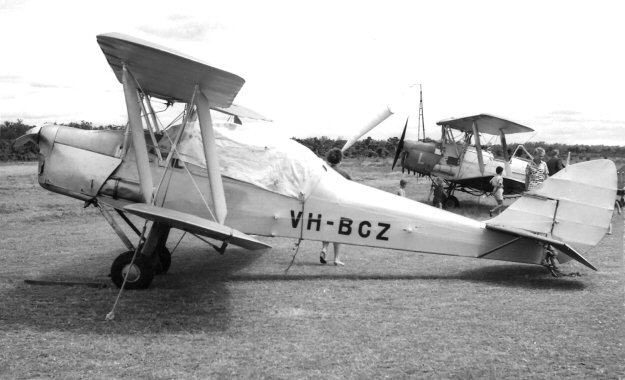 Here's VH-BCZ at Bunbury, WA in December 1963, whilst owned by the Bunbury Flying Group.
This Tiger had spent all its civil life in outback WA. It was purchased by MMA ex RAAF Cunderdin
disposals sale ex A17-317 in December 1946, and sold during civil conversion at their Maylands
maintenance hangar, to Father Edward Bryan, Port Hedland. The reverend based it on Eight Mile
Strip, Port Hedland and named the aircraft "Loreto". On 2 April 1950 Father Bryan attempted a

a night takeoff at Onslow to get back to Hedland in time for Mass but struck an earth bank and
crashed. The shot below, from the Mike Mullumby collection shows the aircraft upside down at
Onslow. It would appear that the very non-standard canopy, along with a strengthened tail skid
was was fitted by MMA during the original conversion. -BCZ then had a continuous series of WA
owners from 1947 to March 1964 when its CofA expired at Bunbury WA and stored. It was rebuilt
at Maylands in 1962 when the above shot, by Alistair Coutts (via Geoff Goodall) was taken.
Unfortunately the canopy has a cover over it, but by the looks of it, the aircraft may have been fitted
with a more conventional Canadian-style cockpit cover at that time. Another rebuild occurred at
Jandakot in 1979 and -BCZ was then sold to Dick Cavill of Adelaide who operated SAAATS..
This Tiger is still current and flying in South Australia, being registered to Cavill Power Products.