VH-BCE (2) Piper PA-25 Pawnee 235B (c/n 25-3729)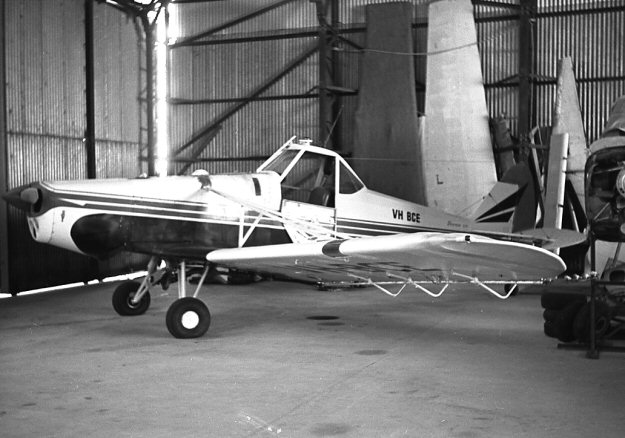 A Geoff Goodall photograph taken in the hangar at Cunderdin, WA in January 1969. The Pawnee
was owned at the time by Bob Couper Pty Ltd. This firm was a pioneer West Australian agricultural
aircraft operator. A mishap at Colac, Victoria put -BCE off the register for a year between 1972/73
and it was damaged in a crash at Jeparit, Victoria in August 1974. Gippsland Aeronautics collected

wrecked Pawnee airframes to be converted to their two-seater GA-200 Fatman design at their hangar
at Morwell-Latrobe Valley, Victoria. VH-BCE was restored to the register as a Pawnee in August
1990. A change of type was issued on 11 April 1991 and it became the first of seven developmental
GA-200 aircraft and was given the new c/n of 200-9101, and registered to Moore's Airspray of Innisfail,
Queensland. It later went to Field Air at Ballarat, Victoria.. The GA-200 had a wider fuselage to.

accommodate two in side by side seating and also had an enlarged hopper. Below is a shot of -BCE
as a GA-200 taken by Clive Wilson over Angle Vale, Victoria in 2006.