VH-BBK (2) DHC-1 Chipmunk T.10 (c/n C1-0226)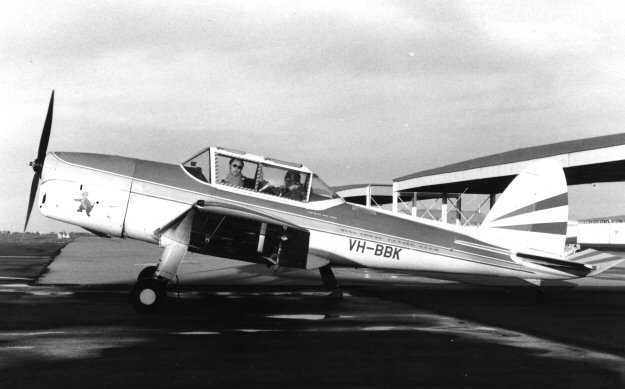 Theoretically, this image should not appear in my assembled collection of photographs of Australian
civil aircraft, since it was first registered in April of 1977 and my "rule" or cutoff date, is that the sub-
ject had to be registered before 12/31/1970 to warrant inclusion. However, I make exception to
this rule for Tiger Moths and Chipmunks insofar as these two types were the epitome of club train-
ing aircraft in the 40s, 50s and 60s, the period covered in my historical treatment, and are, in fact,
"near and dear to my heart". The above shot of -BBK was taken at RAAF East Sale, Victoria in
May 1977 by Michael Austin (via Geoff Goodall) shortly after the Chipmunk had been imported
from Singapore. It still retains its Singapore Flying Club titling on the fuselage cheat line. In the
contemporary image below, by Phil Vabre, shot in July 2009, it is devoid of any distinctive livery.
(getting ready to be repainted as a 'warbird' perhaps?). Previously 9V-BAE, and 9M-ANI in
Malaysia before that, it was one of several Chipmunks acquired by the Royal Malayan Air Force
in 1959, being ex RAF WD287. In the RMAF it was FM1022 before being civilianized and
ultimately windng up in Singapore. .