VH-BAT Cessna 182A Skylane (c/n 34315)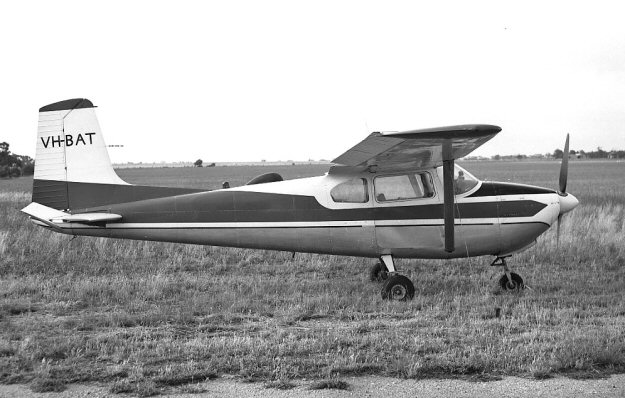 VH-BAT the third was originally Tasmanian Aero Club's VH-TAT which was traded in to
Pipeair Ltd at Moorabbin on a new PA-32 Cherokee Six in May of 1966, and re-registered
-BAT. to allow the Cherokee Six to have the preferred club registration. The Cessna was
originally imported in October 1960 as VH-EDM (ex N9915B) The "Australian Air Log"
May 1966 issue tells us that the 182A VH-TAT arrived at Moorabbin from Launceston on
1st May 1966, was repainted as VH-BAT on 6th May when it also had the Aero Club and
Flying Doctor Service insignia painted over and the Cherokee Six VH-TAT left on delivery
to Tasmania on 11th May. The above shot of -BAT(3) was taken by Geoff Goodall at Swan
Hill in December 1966. It is still currently registered, and owner Barry Robinson of Lismore,
NSW kindly sent me (May, 2011) the contemporary shot of it below.