VH-BAE (1) de Havilland D.H.82A Tiger Moth (c/n DHA309)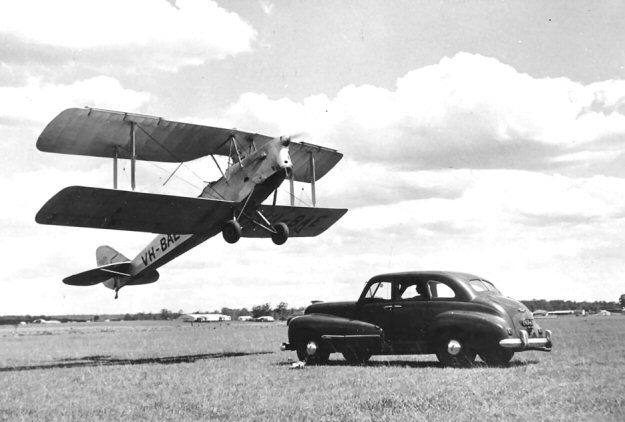 I suspect that this was a "staged" event, rather than a near collision with a Tiger and a 1947 locally
(Australian) produced Chevvy. In the event. it does look as though the pilot cut it a little fine!
VH-BAE was civilianized in November 1946 being ex A17-290. It was re-registered VH-BBU
(the second) in December of 1959, and then again in 1961 as VH-KGS. (The VH-BBU I list in
this collection is the first, and not the same Tiger as the above machine). The above image is via
the John Oxley Library, State Library of Queensland collection, whilst the blurry, uncontrasty one
below was a copy of a snapshot made by Roger McDonald. This latter photo was taken at Lis-
more, NSW, circa 1948.