VH-BAD (3) Hughes 369HS (c/n 119-0211S)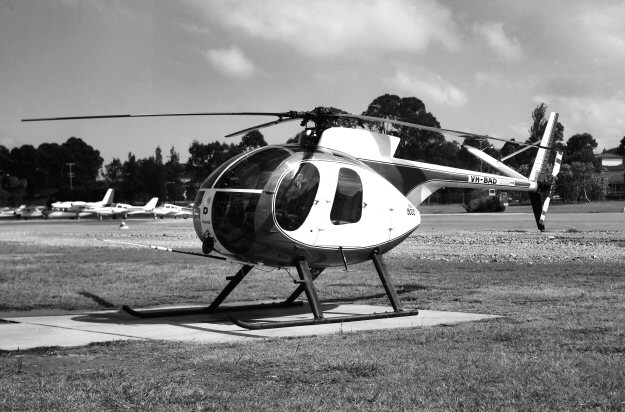 If I were a rotary wing aficionado (which I am not) I would make an effort to try to decipher the
odd looking c/ns Hughes gave to its production runs . There must be a rhyme and reason to their
apparently widely differing numbering system. The 369HS, or to give it its full title of Hughes 500
Model 369HS, series began life in response to a US Army requirement for a light observation
helicopter Hughes' Model 369 won the contest against competition from Bell and Hiller and was
produced as the OH-6 Cayuse, first flown in February 1963 Several civilian versions were
produced. VH-BAD was at Bankstown on 5 March 1989 when Greg Banfield took the above
shot. It barely creeps in, so far as inclusion in my photographic collection is concerned, being
first registered on 17 July 1970 to Vowell Helicopters of Tyabb, Victoria. Vowell operated it for
many years while they grew into a major rotary wing player. This chopper later participated in
several exploration stints, including trips to Antarctica (where it was badly damaged in February
1980) and in a scientific expedition to Heard Island in 1986-87. It was finally written off in
July 1995 when it crashed at Scone, NSW while owned by John Weymouth of Heli-Muster, out
of VRD Station, NT.