VH-BAA (2) Douglas DC-3CS1C3G (c/n 13084)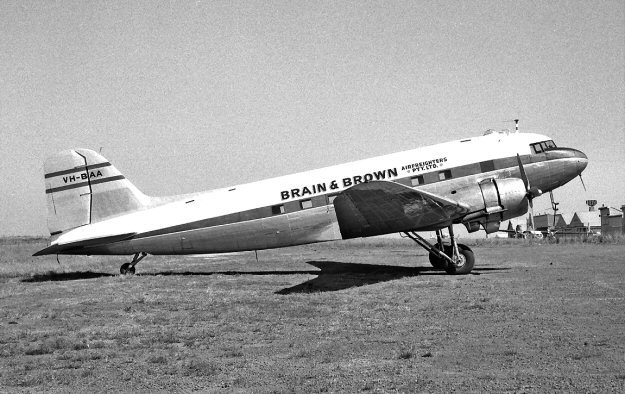 Here's VH-BAA at Essendon on Christmas Eve 1960, only months after was purchased from
Qantas with whom it had served since 1947, first as VH-EAL, then as VH-EBH and finally as
VH-EBW (in 1958). It retains the basic Qantas scheme as used on Qantas' Papua New Guinea
internal services prior to TAA taking over their these routes in 1960. It is seen again at Essendon
(below) in December 1963, this time wearing standard Brain & Brown Airfreighters scheme for
cargo runs to Tasmania, King Island and Flinders Island. The final shot at the foot of the page
shows it in 1976 after the company been restructured as BBA Cargo and acquired an an Argosy
turboprop to add to the fleet. VH-BAA was subsequently retired at Essendon in 1979 and taken
by road to Warbirds Aviation Museum at Mildura, later dismantled again and moved to Mareeba
Qld for display in WW2 military scheme by North Queensland Warbirds. After a partial restoration
at that locsale it was sold to the Central Aviation Museum at Alice Springs where it is being put
on display as 'VH-EWE'. Ian Mcdonell saw it there in August 2017 (bottom of page).