VH-AMA (1) CAC CA6 Wackett Trainer (c/n 363)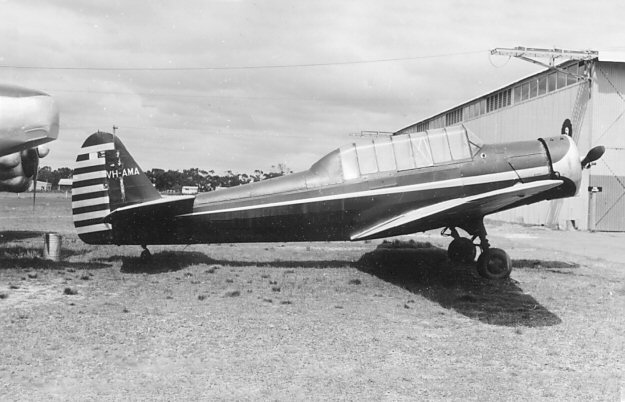 When the Illawarra Flying Club decided that the tail location for the registration was in vogue,
they changed the livery somewhat from the all red fuselage with silver rego and fin (and red
and silver rudder stripes) to that of the above. The canopy was painted all red along with the fin.
The rudder stripes remained, but a silver cheat line was added. This aircraft was ex A3-129
and is seen here at Bankstown in 1954. Note nose of Anson on left. VH-AMA was re-registered
VH-DGR in 1958, and is now, I believe, being restored as VH-WKT. Prior to that, earlier in
1958, VH-AMA was used by Kingsford Smith Aviation for flight trials pending the conversion of
several Wacketts for agricultural operations. This involved extending the rear fuselage decking
to eliminate the rear cockpit (presumably to accommodate the hopper). It is seen at Bankstown in
in that configuration in the photo below from the Geoff Goodall collection. Later, as VH-DGR it
was restored to conventional Wackett Trainer layout.