VH-AZX Avro 652A Anson 1 (c/n ?)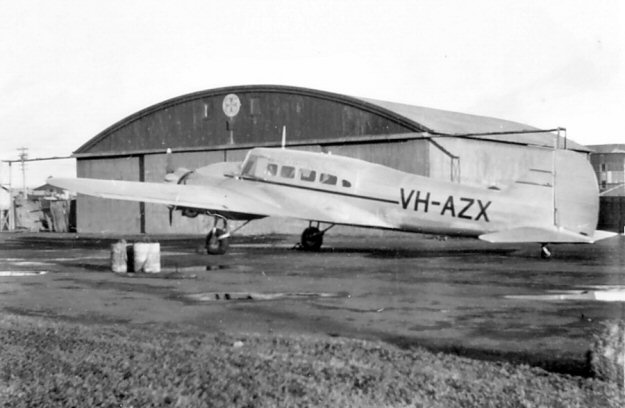 Some 140 Avro Ansons were civilianized in Australia after WW II. Many retained their 'glasshouse'
windows (see the previous one, VH-AXU), while others were re-worked and had separate windows
fitted. VH-AZX was somewhere in between and merely had the strip between the greenhouse windows
widened somewhat. I photographed the same aircraft some years later (circa 1955) at Bankstown (see
below) and this time it was wearing the inscription 'Marshall Airways Charter Service'. Ansons were
used in both freight and passenger roles. VH-AZX was withdrawn from use in 1962 when the DCA
refused to renew its C of A due to fears that the glue bonding of the wooden parts was no longer reliable.
The third shot is a color print (from a 35mm slide) from the Ken Tilley collection showing the helmeted
cowls replaced by 'Oxford' type ones. And lastly, the ignominious end. Geoff Goodall spotted poor
old -AZX in a car wreckers' yard at Fairfield (near Bankstown) in July of 1967. Both the Anson and
the FJ Holden would fetch a buck or two today!