VH-AZT de Havilland D.H.82A Tiger Moth (c/n DHA853)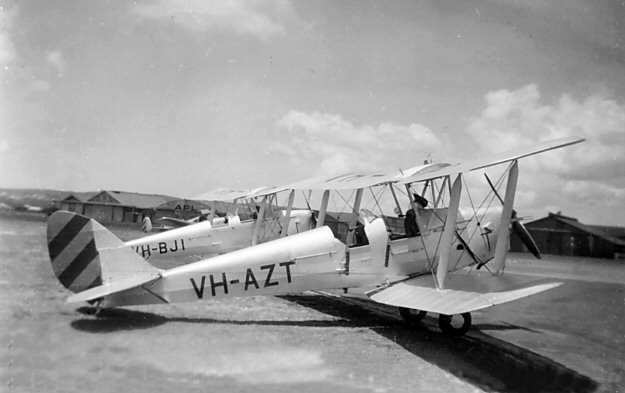 Two Royal Queensland Aero Club Tigers at Archerfield in 1951. I had time in both of them.
VH-AZT was ex A17-721 and VH-BJI was formerly the RAAF's A17-142 (having previously
been VH-BAR). VH-AZT was one of the Tigers originally destined for Southern Rhodesia as
DX810, but the kit was diverted to Australia instead. In 1960 it went "out West" and Geoff
Goodall took the shot immediately below at Carnamah, WA in August 1968. VH-AZT, along
with VH-AZA had been acquired by John Forrest Pty Ltd and converted for agricultural work
Following a DCA-imposed ban on Tiger sprayers in 1970 it was retired and trucked to Perth
for a complete rebuild back to a two-seater. The DCA Register changed the identity of VH-AZT
from the correct DHA c/n of 853 to a new identity "A17-130" which probably indicates that the
fuselage at least of A17-130 (which went to RQAC as VH-BCW) was used in a major rebuild
by the Club in 1959 prior to sale. At the bottom of the page is a nice air-to-air from Geoff's
collection taken near Northam, WA in February 1983. VH-AZT is still currently registered
(2008) and still lives in the Perth, WA area.