VH-AZS (2) DHA3 Drover 2 (c/n 5018)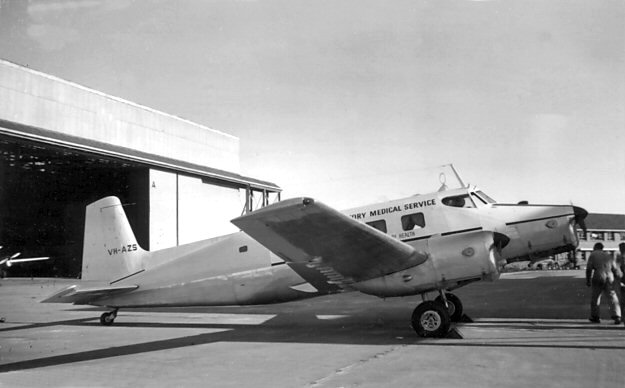 Twenty DHA3 Drovers were built by de Havilland Australia Pty Ltd, as a light 'bush' transport.
VH-AZS was originally to have been VH-DRF but that registration was not taken up and it became,
and remained, VH-AZS all its life. It is seen above at the place of its birth at Bankstown, NSW
in the livery of the Northern Territory Medical Service. Several Drovers, in fact, were operated as
aerial ambulances. VH-AZS is, I understand, no longer airworthy, although its remains are stored
at Tiger Moth World in Wangaratta, Victoria. Seen below are images of the same machine taken
at various times in the Brisbane area. The upper one (immediately below) is by Barney Deatrick
(via Geoff Goodall) and shows the Drover in TAA livery in June 1964 at Eagle Farm whilst being
operated for the Royal Flying Doctor Service. The three lower ones are all via the Peter Gates
collection. I am not sure of the correct sequence of these, time-wise, for the various liveries. On the
lower shot, Errol Stewarts was a major retail outlet chain in Australia. (Like a Wal-Mart or K-Mart).