VH-AYM de Havilland D.H.84A Dragon (c/n 2031)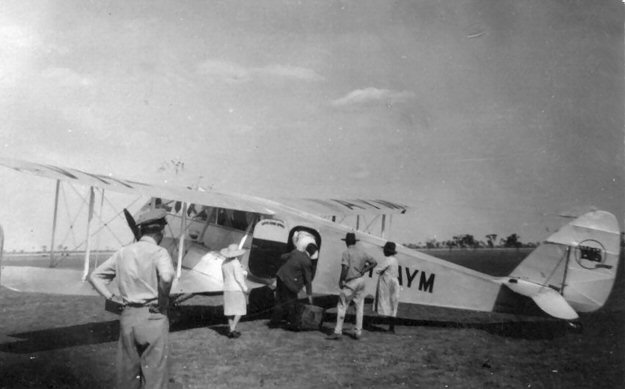 Several of the images I have gleaned over the years came from obscure albums of correspondent's
family relatives.. One such is the shot above, of a Qantas Dragon, from the album of Bernadette
Wood of Melbourne whose father, Dr Alan J Wood flew with the Flying Doctors Service out of
Cloncurry. VH-AYM was ex A34-42 and was released from RAAF service in September 1945
. It was purchased by the Royal Queensland Aero Club for £50 in February 1946. In September
of that year it was registered to Qantas and operated for Flying Doctor Service of Australia
(Queensland Section) Inc, and named '

Norman Bourke

'. In the snapshot above, probably
taken at Cloncurry it appears to be either loading or unloading a gurney with a patient aboard.
Also, from the album of the late Dr. Wood is an evocative shot (below) of the interior of a Dragon
(not necessarily -AYM) showing patient and nurse safely aboard. Note bulkhead placard for
the Flying Doctor Service of Australia. On 24 November 1948, -AYM was destroyed by fire
at Canobie Station, some 88 miles north Cluncurry. Qld. Fire broke out in the port engine during
engine start and was unable to be extinguished. . Pilot Peter Buchanan and 4 passengers escaped
unhurt. Both Dragons and Dragon Rapides had the habit of doing this from time to time.