VH-AWG (2) Cessna 172A (c/n 47312)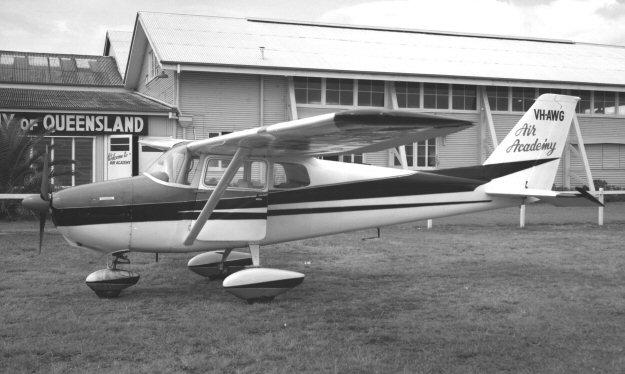 Some registers call this a Skyhawk although, in truth, the name was only given by Cessna to
the 172B model on up. Formerly N7712T, -AWG was first registered in June 1960. Greg
Banfield's photo above was taken at Archerfield, Brisbane on 31 January 1964. It was, Greg
reports, finished in an attractive black and white scheme with red trim. The photo below, by
Mike Madden, also at Archerfield, was taken a year earlier in January 1963, and shows the
prior livery of the Air Academy, which was a subsidiary of the long-established Archerfield
company Airwork Pty Ltd. -AWG was sold in July 1966 to Hammersley Station near
Wittenoom , WA and after several other WA owners was destroyed on the gound by a storm
on 30 December 1983.