VH-AVV Cessna 180 Skywagon (c/n 32654)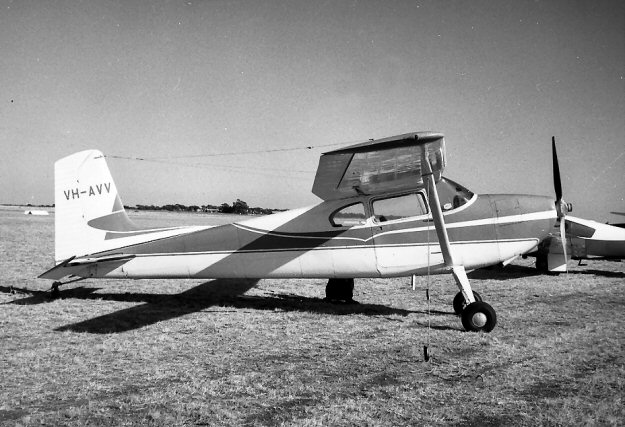 VH-AVV was one of the first Cessna 180s imported into Australia, being first registered
to the Catholic Mission of the Divine Word in Wewak, New Guinea in December 1956.
Through their world-wide resources the Catholic Church were able to acquire hard to
come by dollars to ensure that their missionaries were provided with good, up to date,
transportation. Geoff Goodall took the above shot at Swan Hill, Victoria in March 1965,
after the machine had "gone south". Geoff also provides the evocative color print (below)
from the Paul Howard collection which was taken at Vanimo, PNG circa 1962, while the
Cessna was in service with the Catholic Mission. The mission operated under a charter
licence as well as their own mission flying, which could explain for the presence of the
military chaps in the picture. Geoff saw -AVV again at Kilmore, Victoria three years
later (photo at foot of the page) wearing a very smart, if non-standard (for Cessna), paint
job. Goodall advises that, at that time, it was owned by Dr. Ralph Capponi who also
had the Mustang A68-119 which DCA refused to register but did allow him to fly on
permits from 1964 to '67. VH-AVV was a 1956 model and had originally been assigned
the US registration N7757A. It is doubtful that it ever carried the US tail number, most
likely going instead straight to New Guinea. It was written off in a crash at Labertouche,
Victoria (near Warragul) in August of 1971.