VH-AVQ (4) Piper PA-23-250 Aztec B (c/n 27-2188)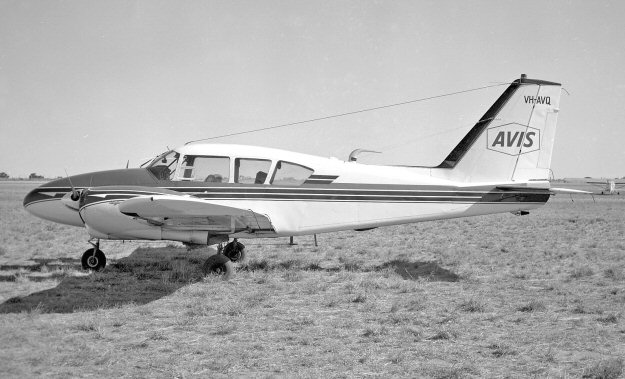 The fourth -AVQ (the third was a Comanche 250) was this Aztec, first registered on 12 August
1966. The Aztec B was the first of the long nosed Aztecs, incorporating a 150 lb baggage com-
partment. The PA-23-250 wss originally to have been the PA-27 (hence all Aztec c/ns are in
that series) but, in the event, it was decided to make the aircraft merely an enhancement of the
original PA-23 design, thus saving the expense of having to secure a new Approved Type Cert-
ificate for it. VH-AVQ at was photographed at Warracknabeal, Vicrotia by Geoff Goodall
in April 1967, when it was part of the Avis Rent-a-Plane fleet which was started as an associate
of Avis Rent-a-Car in Australia in 1963 by Swedish Captain Peter Ahrens. He had migrated to
Australia in 1960, flying his family out from Sweden in his DH.89 Rapide SE-CBU, which he used
to establish East Coast Airways at Coolangatta Qld - the Rapide became VH-ECW and he also
used PA22 -ECX, Seabee -ECZ and leased Piaggio P166 VH-BBG. When DCA would not give
a licence for his planned airline services south from Brisbane, he left and formed Avis Rent-a-Plane
with a fleet of Aztec twins and Cherokee Six singles.