VH-AVL Piper PA-23-250 Aztec B (c/n 27-2356)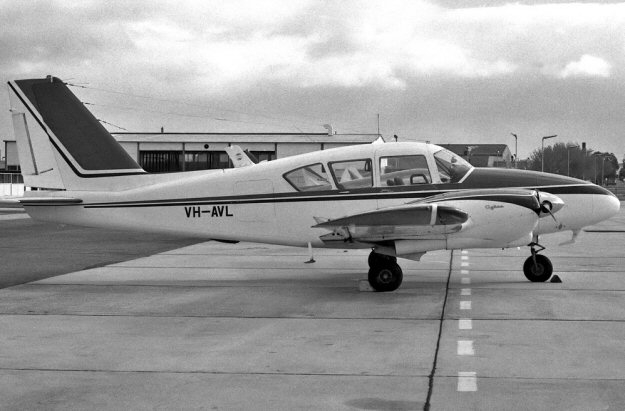 Another of Avis Rent-a-Plane's Aztecs. Capt Peter Ahrens flew a whole bunch of them out from
San Francisco to Sydney in the 1960s. No mean feat. Greg Banfield saw this one (below) at
Mascot in December 1965, shortly after it had arrived as N5291Y. The photo above, by Daniel
Tanner photo shows it at Essendon in 1973, by which time it had been sold off by Avis. . Avis
Rent-a-Plane was started in Sydney in 1963 by Peter Ahrens (ex East Coast Airways VH-EC
series owner) and used an Americanized style of marketing charter aircraft, including full page ads
in the newspapers with pretty girls carrying the customers' baggage on board, etc etc. In reality,
Avis Rent-a-Plane's main business came from leasing their fleet of twins and singles to other charter
operators, offering a range of short term and long term lease rates (with or without pilot) which made
it cheaper than purchasing aircraft. In this they seemed to be very successful . The fleet of Avis air-
craft just about filled the VH-AV block, and one never saw them sitting around in Sydney waiting
for work too long. That being the case, I wonder what the story of their demise was?