VH-AVG Percival P.30 Proctor 2 (c/n H224)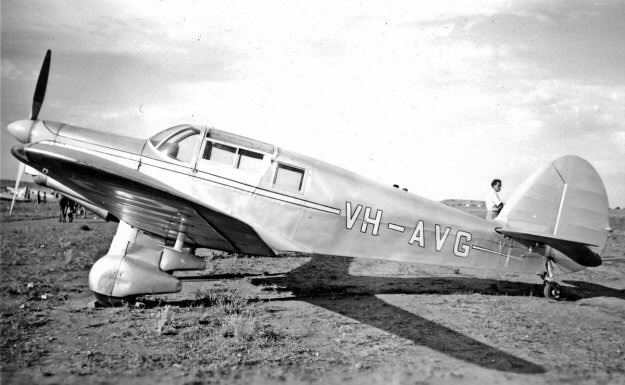 The above photograph from the John Hopton collection was taken by Allan Carter at Morrabbin
in the late 1950s. By the time Geoff Goodall saw it at in 1967, (immediately below) it had, in
fact, been withdrawn from use at Wiawera Station, Olary, having failed to pass its DCA wood/
glue adhesion tests. It still looked pretty good, in my view. This Proctor was one of many hundreds
built by F. Hills and Sons of Manchester (a furniture manufacturer) during WW II. It served with
the RAF as BV658 before being civiliianized in 1946 as G-AHVG. At the foot of the page is a
rare shot of the Proctor as G-AHVG provided by John Williams of Adelaide. This photo was
taken prior to 1955, the year in which John's father, Jack Williams, acquired the aircraft and flew
it out from the UK, crashing on Sir Graham Moore Island in the Timor Sea in the process. It was
recovered by barge early in 1956, repaired and flown to Nhill, Victoria. Jack decided to sell the
machine after it had been restored and repainted and hence the initial rego allocation which was to
have been VH-AJW (his initials) was never taken up, and it became VH-AVG instead. This air-
craft has now been restored and is masquerading as the Percival P.3 Gull Six VH-ACM as seen in
the contemporary shot by Ken Watson (third photo), taken in the hangar at Alice Springs.