VH-ATQ (1) de Havilland D.H.82A Tiger Moth (c/n DHA113)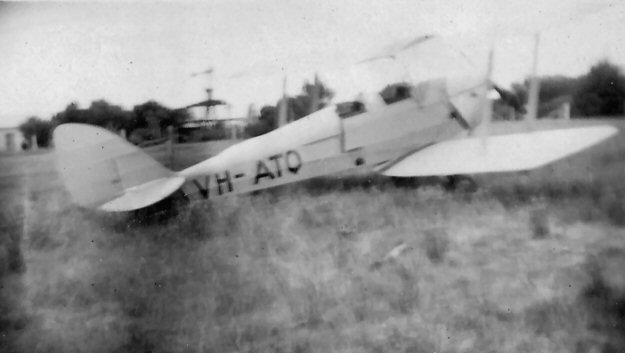 The photographs here of the first -ATQ were supplied by Aaron Betts, grandson of Fred Betts*
who had purchased this Tiger from RAAF disposals at Western Junction, Launceston, Tasmania
(my old home town) in 1946. I'll post the shot showing the rego above. In the photo immediately
below, that's Betts and his sister, with wife Nellie (Aaron's grandmother) in the cockpit. Anyway,
since Fred was not permitted to carry a passenger across the Bass Strait back to Geelong, wife
Nellie was forced to return home via the Avro Anson mailplane! (Flinders Island Airlines?). In
1953 VH-ATQ was acquired by SuperSpread who turned it into a single-seater crop duster and
re-registered it VH-SSB. This Tiger still flies today as VH-APB.

* Fred also owned several more interesting aircraft including:- the D.H.60 Gypsy Moth
VH-UKY (which he wrote off at Barwon Heads in January 1947, the Junkers A50
Junior VH-UCC (from 1951-1953), the Beardmore Wee Bee VH-URJ (1938-1940),
the Comper Swift VH-UZB (briefly in 1945), and the Aeronca K VH-ACK.