VH-ASG (1) Lockheed 12A (c/n 1302)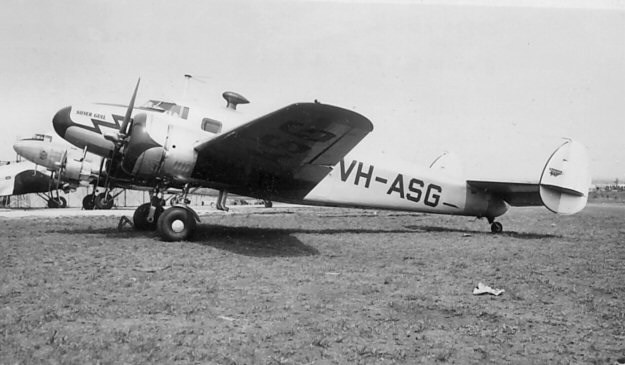 VH-ASG was originally ordered by the Netherlands East Indies Government (to have become
L2-34), but was diverted to Australia due to the imminent Japanese invasion of the islands.
It was impressed into service with the United States Army Air Corps and was used in a light
transport/communications role during the war, bearing the fake serial number 42-1302, which
was a contraction of the fiscal year it was taken over from the Dutch, plus its c/n (The 'real'
42-1302 incidentally was a Vultee BT-13A!). The photo at the foot of the page from the Dave
Vincent collection shows it in its miltary garb. In 1946 it was declared surplus, civilianized and
purchased by the Broken Hill Pty/Zinc Corporation. It was used for the transportation of BHP
brass and operated under the name of Associated Airlines, bearing the name

'Silver Gull'.


Associated was not a true scheduled airline but merely the name given to the BHP fleet of executive
craft. My picture ahove was taken at Essendon in the early 1950s, while below it is seen in a
Commonwealth Aircraft shot at Fishermans Bend circa 1948 where Associated were based at the
time. Interesting background in this photoi shows US Embassy Naval Attaché Beech SNBs and
piles of dumped airframe sections on the right. Incidentally, Associated also operated two other
Lockheed 12As, VH-ABH named

'Silver City'

and later, VH-BHH, named

'Silver Star'

. The
third shot below is by Mike Madden and shows -ASG at Archerfield in January 1963 when it was
owned by Bob Carwell's Carsair, and still carrying its BHP name. It was sold in Malaysia shortly
after that latter shot was taken and became 9M-ANK, It crashed at Bukit Besi in 1966. In 1981
I was living in Malaysia and attempted find out what happened to this Electra Junior. It appears as
if it languished at the old K.L.(Kuala Lumpur) Airport for several years and then disappeared. One
local wag said he thought the remains may have been taken to Singapore-la. (Local regional accent
joke, meaningless unless you've lived there!).