VH-ASG (2) Grumman G1159 Gulfstream 2 (c/n 95)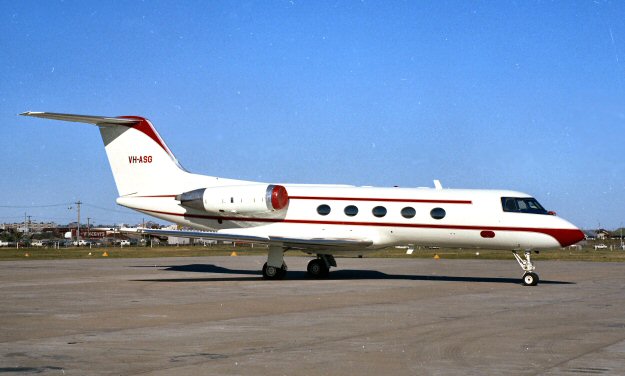 The second aircraft to bear the registration VH-ASG was this sleek Gulfstream, registered to
Broken Hill (Pty) Ltd. Above photo by Greg Banfield taken at Mascot in November of 1971.
This rego is actually just outside of my upper date limit of first registration in 1970 or prior for
inclusion in this selection (first registered in April of 1971) but I'll put it up anyway. The Gulf-
stream was formerly N887GA. In 1986 VH-ASG underwent conversion to GIIB standard.
This entailed a complete wing replacement with a GIII wing, including winglets. In 1993 it was
traded in for the Gulfstream IV VH-ASQ and departed Australia for the Gulfstream plant in
Savannah, Ga in September of that year.