VH-ASC (3) de Havilland D.H.82A Tiger Moth (c/n DHA428)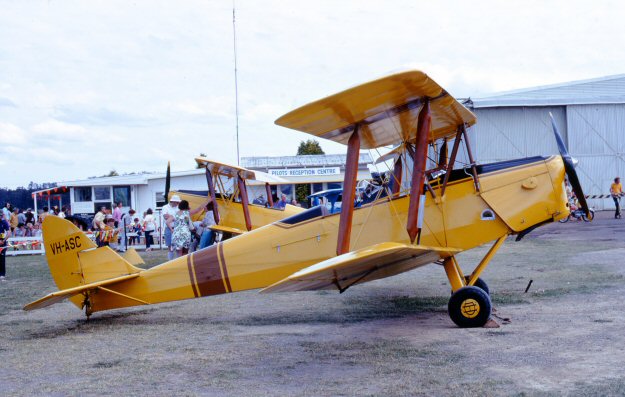 There were three Tigers registered VH-ASC. This is the third one, and is seen above at Maitland,
NSW in November 1973 by Greg Banfield. It was the former VH-BBF (A17-387 in the RAAF)
and was re-registered VH-ASC in 1957 when it joined Airspread Australia at Moorabbin. In its
latter years it was adorned with striking (and ugly) paint jobs. The image immediately below came
from a small card carried in a box of Weetbix. Scan courtesy of Phil Vabre. The lurid Tiger colour
scheme was applied by owner Neil Cottee in 1976 when he was promoting his company Pacific
Film as a serious competitor to Kodak colour film. At that time Cottee had a private airfield at
Bowral where he based WW1 replicas and several other aircraft including a vivid red Auster, all
painted in bright eye-catching colour schemes. In 1979 VH-ASC went to Red Baron Scenic
Flights Pty Ltd at Bankstown. Ian McDonell took the shot of it at the foot of the page at home
base in 1990 looking, in my mind, slightly ridiculous. It flew as the Red Baron until about 2004
when it was re-registered VH-MJW to a new owner. It is still current in NSW, and in 2008 under-
went another rebuilt and is now flying as A17-387. It has recently (2010) been re-registered
again, this time as VH-JJW.