VH-ASA (3) Piaggio P.166B Portofino (c/n 409)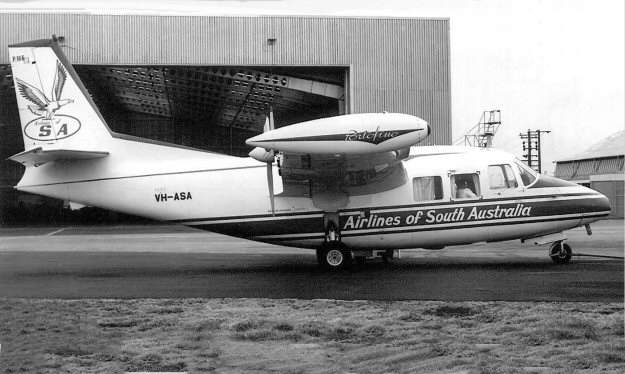 Purchased new. by Airlines of South Australia Pty. Ltd in January 1963, the Portofino was
configured to carry 9 passengers. It was used on the Adelaide-Renmark-Mildura and Ade-
laide-Millicent-Naracoorte services. It later operated services for Ansett-ANA from Alice
Springs to Ayers Rock during the winter of 1963. In 1969 it was registered to Forrester
Stephen Pty. Ltd and operated by their Commuter Airlines subsidiary. O.G.D. Cooper
of Bondi, NSW acquired it in February of 1977, and it was flown by Eagle Airways in
1977-1978. By November 1978 it was derelict at Bankstown, NSW, and was struck
off the register in 1979. VH-ASA was rescued from the Mascot Airport fire dump during
1993 and is reportedly to be restored by the Historical Aviation Restoration Society. Both
images on this page were taken in 1963 when the machine was new. The upper one by
Richard Maclean at Essendon, and the nice overlook one (lower) by Geoff Goodall at
Adelaide Airport..